Access to historical maps is essential to those that study the past. For that reason, the Amsterdam Time Machine offers tiles, elsewhere on this site, of six important Amsterdam maps.
Using Tiles
Tile layers are the underlying maps in most map applications. Importing a tile layer in a Leaflet application is done in one line of code.
Tiles are also easily imported in geojson.io (Meta > Add map layer, paste the tile layer url and give it a name) and QGIS (see how).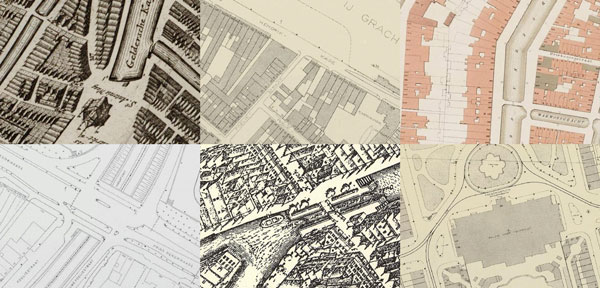 Maps from the City Archives
There are over 4500 maps in the collection of the City Archives. They can be accessed at beeldbank.amsterdam.nl. As a geographical interface on these maps, this Adamlink prototype by Bert Spaan is somewhat more friendly to use.

HisGis
See the vectorized 1832 and 1860 map here. These maps will be made available as open data soon. Also, HisGis is digitizing the addresses on the 1875 and 1909 maps within the Buitensingel – this data will be open licensed as well.

City Data
The city administration offers data and lots of thematic maps on data.amsterdam.nl.

Adamlink street gazetteer
The Adamlink street gazetteer offers line geometries of Amsterdam streets, download the geojson here. Adamlink is trying to date all streets, including the ones that have disappeared, making it possible to get a streetplan for any given year soon.